An emerging hepatitis C epidemic is occurring among people who inject drugs (PWID), with 73% of newly reported cases in New York in 2021, with available risk factor information, having a history of injection drug use (IDU) 1. Significant barriers exist in testing, treating, and curing hepatitis C virus (HCV) within the PWID population due to the unique social determinants of health (SDOH) needs of each individual as well as substantial structural inequities. In order to meet New York's HCV elimination goals, efforts must be focused on treating PWID that are tailored to meet their unique needs.
HCV Care and Treatment for PWID
Since 2019, the New York State (NYS) Department of Health AIDS Institute has funded three "innovative models" to provide HCV care and treatment located in settings accessible to PWID, including co-location at a syringe services program/drug user health hub, via mobile van, onsite at drug treatment facilities, as well as using telehealth. Each model is also required to provide services that address SDOH, such as referrals for housing assistance. Despite challenges each model faced which limited service delivery, including impact from the COVID-19 pandemic, outcomes support the continued and expanded provision of HCV care and treatment to the PWID population outside of the traditional health care setting.
During the initial three years of this initiative, 244 patients were enrolled across the three innovative models. Many (59.8%, n=146) patients received medications for opioid use disorder (MOUD) while enrolled, with 63.7% of those receiving MOUD having initiated MOUD on or after enrollment into HCV treatment (n=93).
Patients linked to a provider are likely to initiate and complete treatment for HCV. Of patients who were linked to a provider, 83% initiated treatment (n=170). Of those patients who initiated treatment, 81% (n=138) completed treatment. Of those patients who returned for assessment of sustained virologic response following treatment completion, 95% of patients were confirmed cured (n=109).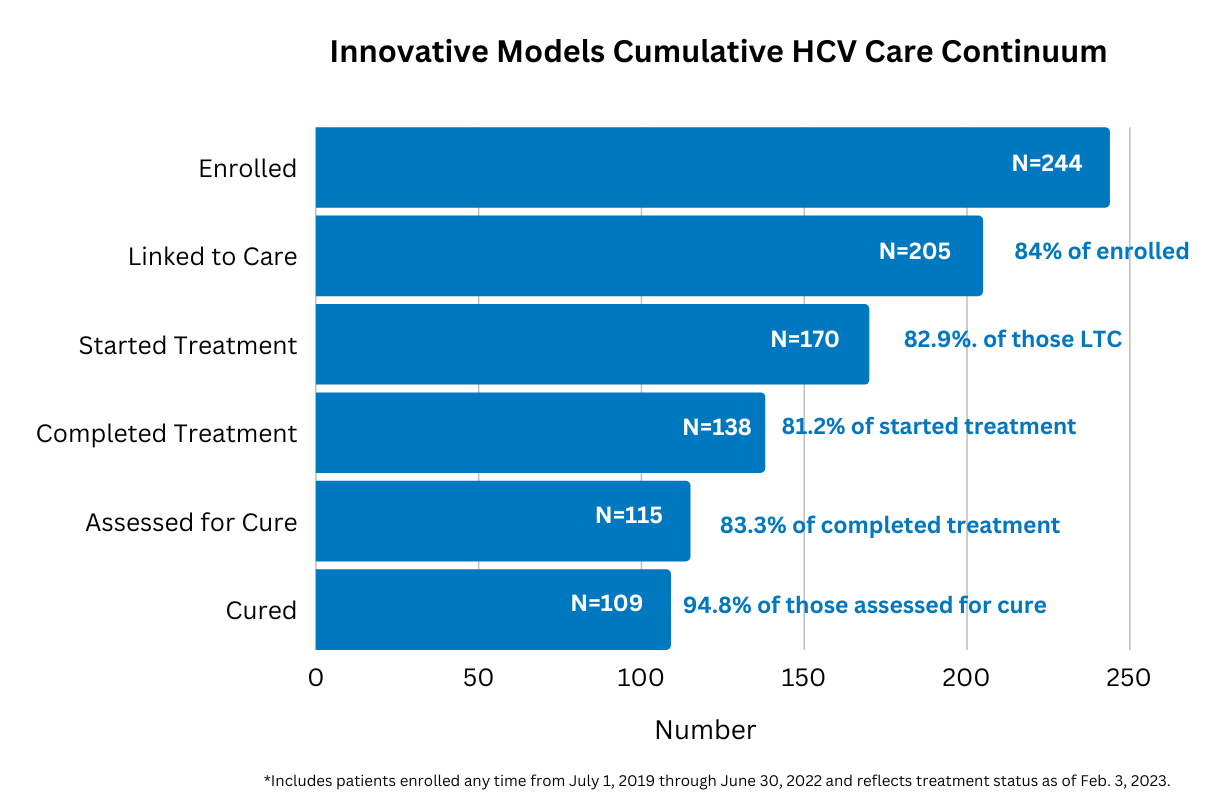 To meet NYS's goal of eliminating HCV by 2030, access to HCV care and treatment must be improved for PWID.  PWID face unique barriers to care, often including current IDU and a history of stigma and discrimination within traditional health care systems. The provision of HCV care and treatment by co-locating services in non-traditional settings can alleviate some of these barriers to care and meet PWID where they are.
As the data indicates, PWID living with HCV, including those reporting current IDU, can be successfully treated and cured.  Linkage to HCV care also has the potential to engage those patients in MOUD, which could reduce the risk of reinfection.
Even with these accomplishments, challenges persist along the care continuum, most notably post-treatment at assessment for cure.  More work is required to meet the SDOH needs of the PWID population through the provision of wraparound services and increased patient support and engagement throughout treatment. Despite individual and structural barriers, the data demonstrate the success in treating the PWID population, as innovative models can serve as a template for delivering patient-centered HCV care to PWID.
Hepatitis C Newly Reported Cases, New York State, 2021 https://www.health.ny.gov/statistics/diseases/communicable/docs/2021_hepc_regional.pdf