In 2021, the New York State Department of Health (NYSDOH) released its Hepatitis C Elimination Plan identifying recommendations to eliminate hepatitis C as a public health problem by 2030. The plan prioritizes high-risk populations, and high-risk settings, such as people who use drugs and harm reduction programs, to focus the elimination activities. Several of the plan's recommendations focus on hepatitis C virus (HCV) testing including universal HCV screening among adults and pregnant people, as well as expanding point of care HCV testing into high-risk settings. To reach the elimination goals outlined in the plan, NYS must screen over 10 million individuals between 2020 and 2030. The NYS HCV Testing Program, in existence since 2013, will help NYS achieve its elimination goals by expanding access to HCV testing statewide.
About the NYS HCV Testing Program
HCV testing is a two-step process. First, an antibody test is conducted followed by an HCV RNA test for those clients with a reactive HCV antibody test in order to confirm or rule out a diagnosis of HCV. The NYS HCV Testing Program provides free HCV rapid antibody test kits and controls to agencies serving individuals at the highest risk for exposure to HCV. The program also offers agencies the opportunity to provide HCV RNA testing (venipuncture or dried blood spot) onsite through a collaboration with the NYSDOH Wadsworth Laboratory. The HCV Testing Program is designed to identify and screen individuals at high risk for HCV and who are not engaged in routine health care. Individuals with HCV antibody reactive test results are provided or linked to HCV RNA testing, care, and treatment.
The HCV Testing Program enrolls a variety of different agencies that are able to reach those at highest risk for HCV, including local health departments, syringe exchange programs, community-based organizations, health clinics, hospitals, and county jails. Most enrolled agencies are syringe exchange programs (16). Enrolled agencies offer HCV antibody testing in a variety of settings including jail medical units, out-patient substance use disorder treatment facilities, drop-in centers, street outreach, mobile vans, shelters, and other community testing events.
In 2021, 27 agencies were enrolled in the program with at least one agency in each of the six regions of the state. These agencies screened 2,147 total clients using the HCV rapid antibody test with 657 reactive HCV antibody results (30.6%). 21 agencies were able to offer free, immediate onsite access to HCV RNA testing, 19 of which were able to offer RNA testing via dried blood spot specimen collection. Data shows that offering onsite RNA testing, rather than referring for offsite RNA testing, can increase the number of clients who receive an HCV RNA test by reducing barriers to receiving this test.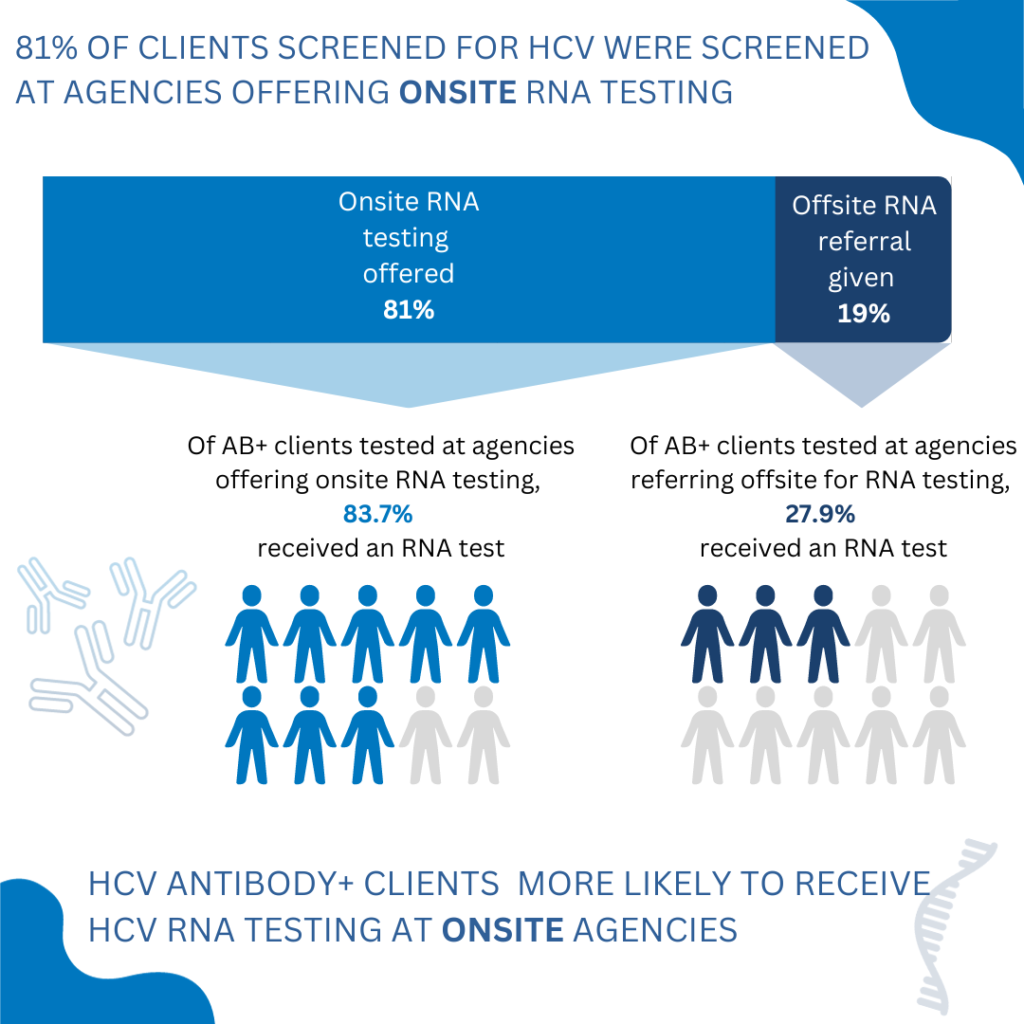 Conclusion
Populations most at-risk for HCV infection face unique health care challenges to accessing HCV testing. The NYS HCV Testing Program addresses some of these challenges through the provision of HCV testing supplies and capacity building at agencies serving those at risk for HCV. The program continues to enroll agencies working in priority settings by supporting testing strategies that address the unique needs of disproportionately affected populations, and exploring different models for working with key partners to eliminate HCV among these groups. 
More Information
For more information on the HCV Testing Program, including enrollment inquiries, visit: https://www.health.ny.gov/diseases/communicable/hepatitis/hepatitis_c/providers/screening_program.htm or email rtpai@health.ny.gov.
This is a guest blog collaboration from the NYSDOH Bureau of Hepatitis Health Care and Epidemiology and the HCV Dashboard Team.